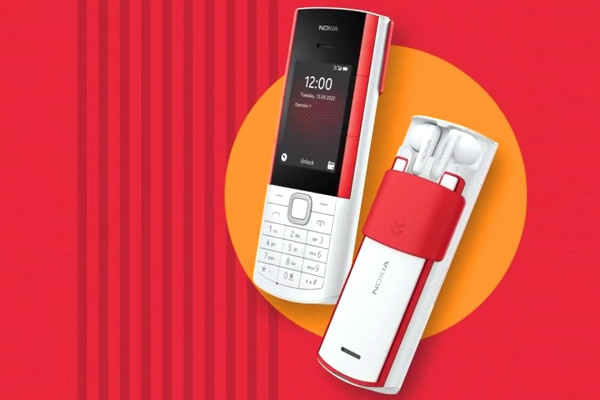 (Image source from: Twitter.com)
Nokia revived the Nokia 5710 XpressAudio which comes with a slide-out panel and a pair of true wireless headphones. It comes with a screen of 2-inches and a classic T-9 keyboard. IKt does not rotate like the original Nokia 5700. It comes with red markings on both the sides. There are three keys to control the music player on the right side. The volume buttons are placed on the left side. It comes with a beautiful and clean design. Nokia 5710 XpressAudio fits well on the palm and it is compact and light as a feather. Nokia 5710 XpressAudio comes with a black and red colour combo. It also comes with a 3.5mm headphone jack and Bluetooth 5.0 connectivity.
There is a dedicated charging compartment on the back side with truly wireless earbuds. Nokia 5710 XpressAudio also comes with a dual-sim card and micro SD card. The micro USB port is located on the bottom of the phone and it helps you to copy the files and allows you to sync between the phone and your PC. Nokia 5710 XpressAudio comes with a 0.3-megapixel camera that is present on the backside of the mobile phone. Slide the back slot and remove the TWS to listen to the music. When you keep back the buds in the case, they get charged. There is no need to carry a pair of ear buds. It takes 4 hours to charge the buds and they would give 2.4 hours of talk time. Nokia 5710 XpressAudio can be considered as a secondary phone.