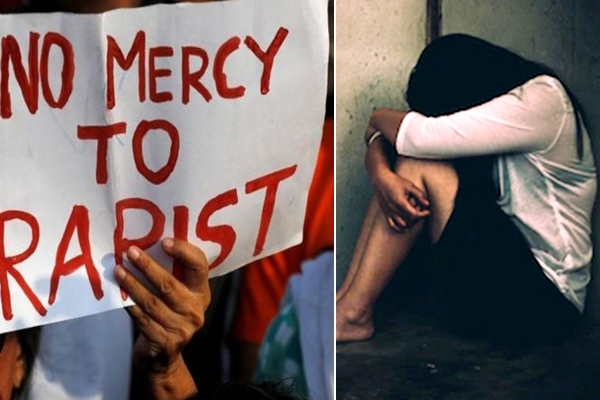 (Image source from: bbc.com and gulfnews.com)
What kind of a nation are we living in where women have to be extra cautious and afraid about stepping out of their houses at odd hours. Is women safety too much to ask for? Can women ever dream of living in an 'All-Safe' zone?

Its high-time women are given the authority to shoot demons who rape and kill innocent women and get away with a death sentence or years of imprisonment. They deserve to be tortured ten times more than the trauma they cause to the victim.

According to the National Herald, every 15 minutes a woman is raped in India and 88 cases are registered every day. In 2018, there were 780 rape cases reported in Delhi and out of the 90% were never reported. This has to be taken seriously and there has to a way out!

No one can stop the enraged hearts of women who want justice for recent rape cases in Jhansi and Hyderabad that has left us all shocked and in pain. These incidents have reminded everyone of the 2012 Nirbhaya gang rape and justice is all we can ask for.

Are women publicly safe yet? Ever since the Nirbhaya rape case, although the punishment for rape got even more severe, no fear has been able to stop such heinous acts. Having said, as per the National Crime Records Bureau data in 2016, there were 38, 947 registered rape cases and after that, there has been an increase of 12.4% cases.

In Hyderabad, a 27-year old veterinary doctor, Priyanka Reddy was ruthlessly raped by 4 men, killed, burnt and thrown in a corner. Was it her fault to trust the men who offered to help in getting her tyre fixed?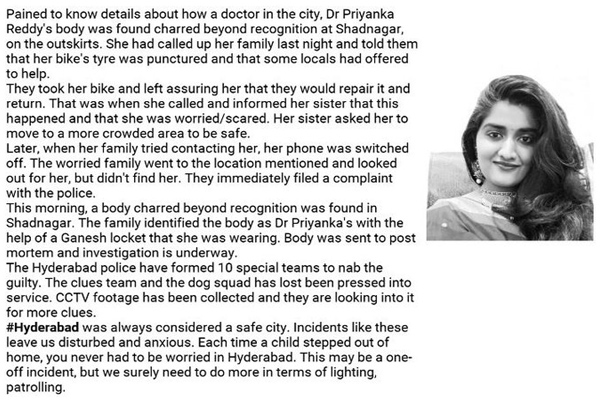 (Image source from: nationalheraldindia.com)

According to the police, on Wednesday night, in Hyderabad near the Thondapalli plaza in Shamshabad, the four men raped her one by one and one of the men choked her due to which she died. They were traced and are arrested.

The next day, close to the place where Priyanka was killed, the police found another woman's burnt body and they suspect it to be linked to Priyanka's case.

Similarly, in Ranchi, while a 25-year old law student was talking to one of her friends, she was dragged and raped by 12 men. Luckily, she took a brave complaint and managed to lodge a complaint against the rapists.

No woman whose being raped and killed can return. It is in the hands of the law to take action against such rapists that the very thought of harming a woman or attacking her should make a person tremble to death.

By Neha Makhija