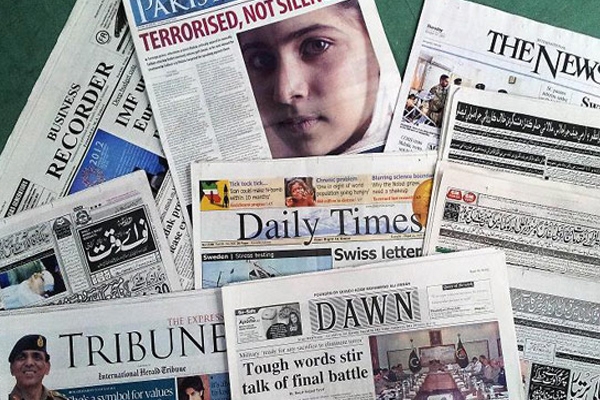 Prime Minister Modi's visit to Israel, a visit by a Prime Minister after 70 years, has made Pakistani Media fuming. They have lost their way and discussing like lunatics.
Prime Minister Narendra Modi and his Israeli counterpart Benjamin Netanyahu has inked seven pacts in various sectors including cooperation in space, water management and agriculture. In a joint statement, they said that their talks were not limited to bilateral opportunities, but included cooperation in fighting terrorism. PM Modi said India's belief in democratic values and economic progress has been a "shared pursuit", Netanyahu equated the Indo-Israel ties as a "marriage made in heaven".
An editorial in Dawn on Thursday compared Israel's "atrocious behaviour" towards Palestinians to the "brute force" India has "unleashed" upon Kashmiris, the Dawn editorial states the Indo-Israel relationship has emerged as a "steady bilateral alliance." "Both right-wing governments in Tel Aviv and Delhi seem to be sharing notes on how to keep these restive populations in check, with the Israelis stifling Gaza and the Indians using the jackboot to crush the Kashmiris," the editorial says.
The Express Tribune, in an editorial titled 'Of Rocks and Harder Places', said Pakistan remains engaged in "border management" and that its foreign policy is still a "distant dream". "The visit to Israel by Indian Prime Minister Narendra Modi is a heads-up for the world at large. Not only does India have a foreign policy that is changing the shape of the envelope, it has the capacity to see through, much to its advantage, the policies that emerge there-from. The scale of welcome for Mr Modi when the entire Israeli cabinet turned out to greet him was itself an indicator that times were changing," the editorial states.
The News International described PM Modi's meeting with Netanyahu as one of "similar minds". "Both are religious fundamentalists whose zealotry has led them to demonise and massacre Muslims. It is no surprise that Modi is one of the only Indian leaders to have visited Israel before, going there in 2006 when he was chief minister of Gujarat and had already led a pogrom against Muslims," the editorial says, adding, "That both leaders are religious chauvinists only makes their alliance more dangerous."
The Daily Times, which stands in solidarity with Palestinians, in an editorial titled 'When Modi met Bibi', opines that India could have made use of its "economic clout" to influence Israel in weakening its hold over occupied territories. "Yet at heart Modi is a hyper-nationalist who only speaks the language of neoliberal economics. In Netanyahu, he sees a 'friend' who also believes in silencing dissent. The significance of Modi skipping a visit to Ramallah, the traditional home of the Palestinian Authority, cannot be overstated," the editorial says.
The Nation's editorial 'Breaking Silence' questions the timing of Iran's Supreme Leader Ayatollah Khamenei's call for support for the "oppressed Muslims in Kashmir" earlier this week given PM Modi's visit to Israel — the first in 70 years. Opining that Khamenei's remarks may have been prompted by the urge to remind India what a friendship with Israel might cost, the edit adds that PM Modi's visit translates to India standing with an enemy of the Muslim bloc.
By Premji