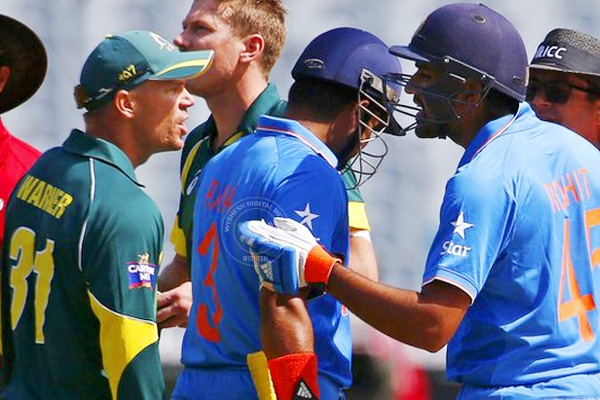 (Image source from: Warner defends his comments on Rohit Sharma})
Warner defends his comments on Indian player Rohit Sharma during the one day match on 18th January, in which Australia won by 4 wickets and India just fought till ending. The war of words emerged while Indian batsman has taken one run for overthrow. "When I went over to say something to him, he sort of said something in their language," said Warner.
"I said 'speak English' because, if you're going to say something for me to understand, theoretically I cannot speak Hindi."
While speaking to Sky Sports Radio, he added "So I did the polite thing and asked him to speak English. Therefore he did and I can't repeat what he said."
"We're always there to play hard aggressive cricket, but you know what comes with that -- that's what happens, sometimes you are going to get fined".
"We've got to keep trying not to cross that line, and we've got to work hard at that, and that's what we're all about -- playing cricket the right way."
Australia have won their first two games in the triangular one-day series against England and India and face England again in Hobart on Friday.
David Warner was fined with 50 per cent of his match fee for demanding Rohit Sharma to speak English during the match, and said he will keep saying it if the Indian batsman continued to speak with him in Hindi.
In the match Rohit Sharma scored 138, Suresh Raina added 51, while rest of the team added just 58 runs. Out of 267 runs, extras were 20 runs. Starc took 6 wickets with superb bowling.
India batsman Virat Kohli and Australia pace bowler Mitchell Johnson were also involved in an angry exchange of words during the third Test in Melbourne, which became hot news till the end of series and Virat Kohli responded to those words valiantly with his bat. 
AW: Kannamsai